Two year old parties
Only suitable for two year olds!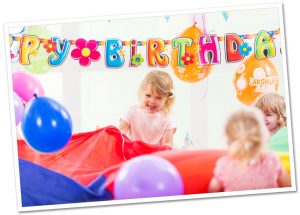 We have a truly fantastic, tailor made party, designed especially for 2 year olds, that your children will love! In true Froggle style, this wonderful party is packed with heaps of variety, fun and vibrant colours!
We incorporate a range of catchy sing along songs with heaps of lively actions. There's a delightful puppet show with one of our fabulous and friendly, fuzzy life size animal puppets, plus loads of music and dancing.
We have a wonderful range of colourful parachute games, including 'bubble tent' where we encapsulate the children in a wonderful giant parachute filled with bubbles. (You get to join in too grown ups!). Please note that the floor needs to be a soft or carpeted surface to do parachute games.
There's plenty of visual magic tricks pitched perfectly for this age, with heaps of interaction and colourful props.
It goes without saying that bubbles play a huge part in this party. (What children's party would be complete without bubbles!) Plus we have loads of catchable bubbles that kids can actually hold on their fingers, without them popping. Not only that, but there are superb humongous bubbles, that leave jaws dropping (and that's just the grown ups!).
If that wasn't loads already, every child gets a balloon model, and if it's a birthday party then the birthday child gets three special birthday balloon models to take home.