Parties for two year olds!
Please note this party is only designed for two year olds and not for babies or 3 years plus.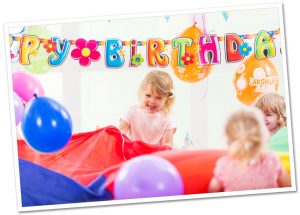 Our two year old party packages are colorful, playful and full of Froggle fun!! The kids and parents will just love it!
There's heaps of favorite catchy songs for kids to sing along to, combined with a ton of super cute puppets.
The party is filled with heaps of interactive songs with actions, shakers, and organza scarves too.
Not to mention our super popular parachute games, such as 'bubble dome' where the kids are inside a parachute dome, and we blow heaps of bubbles inside. Please be aware that flooring must be suitable to do this e.g. soft or carpeted flooring.
If that wasn't enough, we also include some awesome interactive magic tricks, that are simply perfect for this age, with hugely visual and colorful props.
Bubbles are a huge aspect of the party too, from teeny tiny catchable bubbles, to giant bubble blowing that are bigger than your little ones!! These will have them absolutely mesmerized!
Whats more, every child gets a balloon animal and a sticker to take home too!
With heaps of twisting and bopping, twirling and whirling, our 2 year old Froggle packages and full of variety and action to engage the kids every step of the way.
Party lasts one hour. (45 minutes of entertainment followed by 15 minutes of balloon twisting)