Kids Magic Show
Ages 3 yrs+
Our incredible kids' magicians are guaranteed to have your children absolutely mesmerized!
Our kids magic shows include a huge range of jaw dropping magic tricks, combined with hilarious comedy that will have your little ones in uncontrollable fits of laughter.
It's the perfect combination of wow factor and laughter. Plus there's exciting games and dancing, thrown in to the mix. (optional)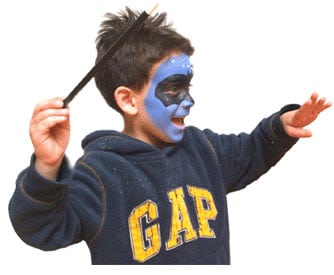 Watch as Froggle makes things vanish in a flash – then reappear from nowhere! Be dazzled as objects are totally transformed form one thing to another. Not only that, there's silliness abound, with Froggle's jumbo sized props and magical comedy wands that have the kids in stitches.
Our kids magic shows are completely exclusive to us, and are fully interactive with heaps of shout outs and actions.
The children are invited to help with the magic, and if the party if for a birthday, your child is made the special star of the show – they're invited to help Froggle perform the magic, as well as the incredible showstopper finale. They're given loads of special shout outs, and get a prize to take home.
Our magic shows last for 45 mins or an hour. Want something for longer? Then why not check out our kids entertainer party or platinum package.
We secure all bookings on the phone, so to book simply give us a call. Or fill out our contact form to make an inquiry and we'll get back to you shortly.
For a truly mesmerizing magic show it has to be Froggle Parties!