Amazing Science Themed Parties
(Ages 5-12 years!)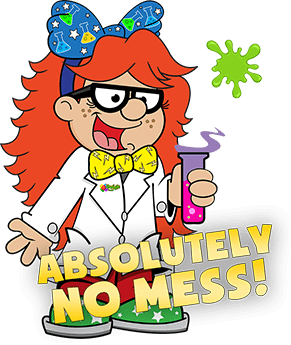 Inspire your kids with one of our incredible Science Parties! These parties are hugely entertaining, fully interactive and visually stunning! Packed with dazzling science demos, snow machine, party games, and brilliant hands on 'Froggle Lab' experiments!
We've teamed up exclusively with super science expert, Maria Rossini (from BSA), to combine the perfect mix of dazzling science experiments, with heaps of Froggle fun. All of our kids science parties offer a humongous wow factor!
Watch in amazement as Professor Froggle fires giant fog rings in the air, levitates huge objects, launches rockets, and leads the kids through hands on experiments, like making gooey slime (don't worry there's no mess to clear up after!).
All the kids get to wear our super cool science 'froggle goggles' and every child gets a prize to take home. If your party is for a birthday then we make a huge fuss of your child, and they get to wear our special 'Professor Froggle' lab coat! They're made the star of the show!
All the activities are clean, safe and bags of fun! There's no mess to clear up afterwards (brilliant!) and you can have your children's science party at home or in a hired venue.
If you're looking for something completely unique, then our s is a fantastic option. The kids will discover loads about science whilst having the best time ever!
Don't forget all parties are tailored to your needs. Check out our children's science party video here. To book, simply call, or email us for more information. Our contacts page is here.